Monday, February 26
I went to see
Marcellus Hall
at the
Lakeside Lounge
with Jess and Zman. Marcellus Hall was vocalist/ guitarist in the band
Railroad Jerk
, which I was obsessed with in high school and miss since they dissolved back in '96. Afterwards, Jess and I had dinner at
Life cafe
, then took a cab home. (Ballin'!)
Tuesday, February 27
I wasn't feeling emotionally or physically well again and I had like a million things to do. In the evening I baked these lemon coconut raisin
scones
and felt a little better. Mmm...Cooking as therapy!
Wednesday, February 28
The weather was so beautiful; I regret that I didn't make it out until 5:30! April came over for dinner. I had planned on making butternut squash risotto, but they didn't have any Arborio rice in the supermarket. I ended up making broccoli and tofu spicy peanut stir fry with couscous. Jessica came home early too, so it was so nice to hang out with them both and "girl talk." April is so funny and cute--and boy crazy, she couldn't stop talking about her crush!
Thursday, March 1
In an effort to do something with my life while I still have it, I sewed an apron this morning. I used my old bathrobe and a supercute bed sheet from Goodwill. Though it was intended to be a very simple and quick project, my sketchy "measure once, cut once" sewing ethic added at least two hours to the entire process. All in all, I'm pleased with the apron and next time I set out to make an apron I have a clear picture of how to construct it. I can't wait to get cookin'!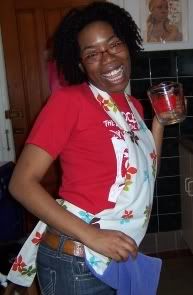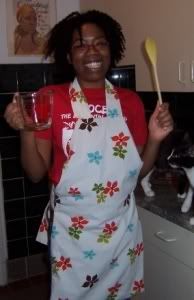 Friday, March 2
I passed the time while temping by reading about the "white devil," processed sugar. Apparently sugar is seriously bad for you. Not just in a playful "you'll get cavities and a fat ass" kind of way. I'm talkin' in a super evil, fuck up your immune system and life kinda way.
Here are a few choice facts about sugar that I discovered on
LagustasLuscious.com
under the essay
How to Eat
.
It lessens germ-killing ability in the body for up to 5 hours because it reduces the production of antibodies.
It interferes with the transport of vitamin c (don't eat sugar when you're sick!).
In order to deal with the wreckage brought on by sugar, the body depletes its own store of vitamins, minerals and enzymes. Without these the body cannot function property, for example, anemia can result from the body stripping itself of iron.
Lagusta explains the cause for sugar addiction:
First, a word on sugar cravings: if you are not getting enough protein, you can crave sugar because protein and sugar are on opposite ends of the food spectrum and therefore balance each other out (white sugar is 99.5% carbs, whereas proteins like meat are almost all protein and fats and water and no carbs. This is why 3- or 5-grain tempeh is a complete protein -- it has carbs and protein!). This is why everyone knows some schmuck who can eat lots of steak and lots of refined sugars and can sort of survive OK, until he has a heart attack and dies, of course. But for you, my little vegan love, sugar will wreck you, because most likely you're not getting a ton of protein (which, is better for you, as too much protein is not a good thing). Sugar addiction is stronger in low protein diets and in low calorie diets -- if you're not getting enough calories, your body craves something simple it can digest quickly -- refined sugar fits the bill perfectly. Ditto with not getting enough complex carbs. BUT the same is true if you're getting too much protein and not enough complex carbs -- you've swung over to the other side of the spectrum and will again crave the white devil. If you're dehydrated you might crave sugar, so drink some water before you go have a pint of rice dream ice cream. If you're eating really refined, fragmented foods you might crave sugar because you are not getting enough whole foods and your body is searching for fulfillment. If you're macrobiotic and are getting too many contractive foods (meat, salt, miso, grains, nuts, sea vegs) you might crave expansive things like drugs, alcohol, fruit, tea, coffee, and sugar and veggies. If you eat enough whole grains and quality protein sources you will not crave sugar as much.
Suddenly my life made sense! I'm sick all the time because of all the refined sugar flowing through my veins. Determined to turn over a new leaf, I decided to eschew sugar for good. Despite my minor setback of eating a handful of jelly beans a few hours later, I feel really empowered and am sure I can kiss sugar goodbye. I have to.
After work, Sabrina and I went over to Cassandra's place for a Taco Benefit Party to support the
SHAC 7
. Cass can cook! I enjoyed a very tasty chorizo taco, marvelous mexican rice, and some chocolate cake with maple and chocolate frosting. I probably shouldn't have had the cake given my recent commitment to my health, but there's always tomorrow and the day after.

Saturday, March 3

A mystery. I did make this fantastic dinner of black-eyed peas, ginger coconut rice, tostones, and a tasty garnish of sliced green peppers. I followed Madhur Jaffrey's recipe for Trinidadian Spiced Black-Eyed Peas from the
World Vegetarian
cookbook and Nava Atlas' recipe for Ginger Coconut Rice from
The Vegetarian Five-Ingredient Gourmet
.
Sunday, March 4

We held a SuperVegan potluck brunch/ board meeting at Jason and Susie's place. I made my fantastic
Tropical (French) Toast
. Laura made roasted root veggies. Susie made her classic meat wad (see Friday, Jan 26). Jason made his signature DaSalad and a tofu-herb scramble. Working is so delicious!
Tropical (French) Toast by me!
Tofu-Herb Scramble by Jason Das!
DaSalad by Jason Das!
Roasted Root Veggies by Laura!
Meat Wad by Susie!